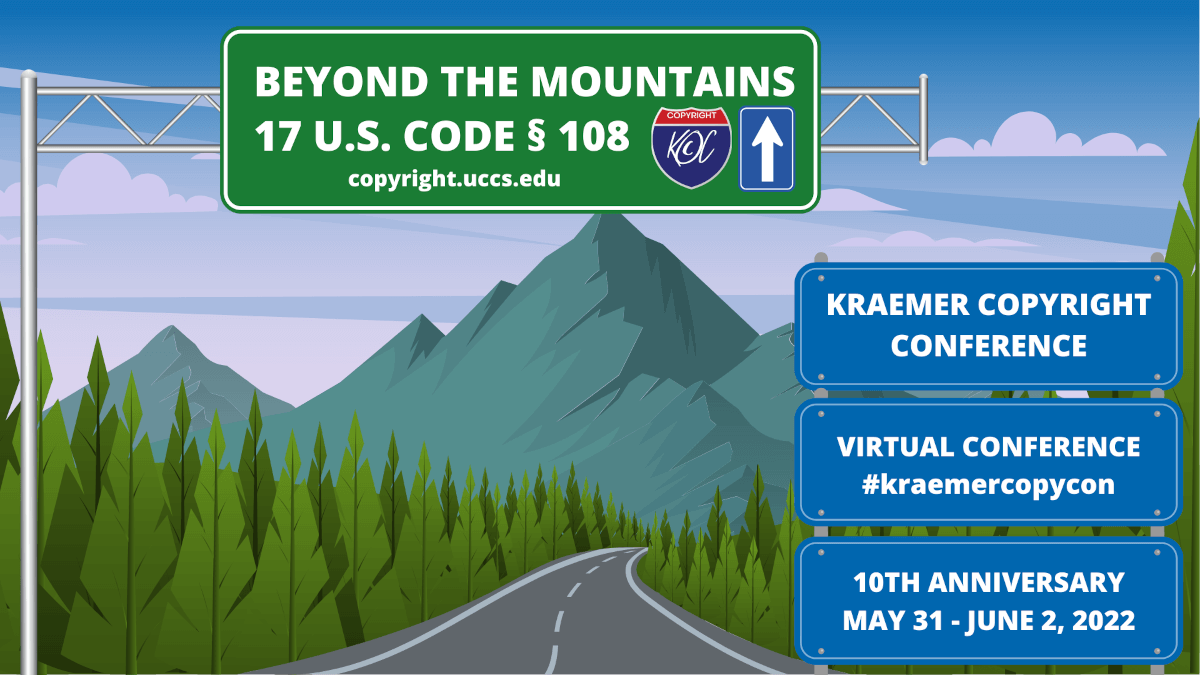 Kraemer Copyright Conference
10th Anniversary – May 31 to June 2, 2022
IMPORTANT ANNOUNCEMENT: Due to the case increase of Covid-19 and its variants, the 10th Annual Kraemer Copyright Conference will be an online conference via Zoom.
We are getting ready to celebrate our 10th Anniversary, and we want you there!
The Kraemer Copyright Conference is a dynamic and enriching FREE annual conference that offers academic, public, special, and school librarians the opportunity to learn about U.S. Copyright Law, recent updates to the law, and how it impacts the services we offer our library users. This conference provides an opportunity for professionals at every level and across libraries to discuss the importance of copyright in libraries.
 
CONFERENCE THEME: U.S. Copyright Law Section 108
Section 108 of the Copyright Act provides libraries and archives the ability to lend and distribute works that are otherwise copyright protected. It includes making copies of works that are copyright protected to send to other libraries, and library users to make copies of work for personal research use. Furthermore, it allows libraries and archives to make copies of works that are deteriorating and could otherwise be lost.  
 
PROPOSALS  
Submit your proposals by Friday, April 15, 2022
 
REGISTRATION
Opens from Monday, March 7 through to Sunday, April 10, 2022
 
Registration is limited to 450 attendees
 

If you register after the registration limit is reached, you will be automatically placed on a waiting list. You will be notified by the committee if a spot opens to add you to the attendee list.
NOTE: Individual sessions are limited to 300 attendees. Please log-in to the individual sessions promptly to secure your space.
 
In the meantime, if you have any questions about the conference, please contact the committee at kraemercopyrightconference@gmail.com.